It's time to sum up the year 2020 – crazy, unpredictable, surprising and pandemic. It's time to sit back in an armchair and reminisce for a while. Last year was really surprising and we could list a lot of "we failed" or "canceled". But instead, we will tell you about what we did – to charm the end of the year and get into the next one well. In Asia, 2020 was the year of the Pig and now is the year of the Ox. For us, last year was definitely a year of the Polish basket! Read our summary.
SUCCESS 1 – baskets from Poland by Serfenta in TOKYO!
Firstly we have to tell you – we were online there, and our BASKETS FROM POLAND were and still are in TOKYO! With everything that happened – for example closing the shipping possibilities to Japan for a longer period of time – we consider it a huge success, we are very happy and thank our partners 世界 の か ご カ ゴ ア ミ ド リ It is a success that has given us strength to continue our activities in Japan and throughout Asia. We want people in the Far East to associate Poland with not only Bolesławiec pottery, but also Serfenta baskets!
In December, the Festival of baskets and fabrics from Poland was held in Tokyo, thank you SLOW ART Hand made from Poland for cooperation in Tokyo events! 🙂 If you want to see more coverage from Tokyo, check out Kagoamidori's profile. * Designed by: Dinksy
We feel that our dreams are at hand and the year 2021 will help us to make them come true. Keep your fingers crossed and share the news about us to all parts of the world.
SUCCESS2 – Serfenta team in a good condition
What is the most important thing in any job? People, a good team, good cooperation. We believe that surviving this crazy year full of surprises is our great success.
In January, we hired two new people to our team (thanks to OWES in Bielsko-Biała) and the fact that we were able to work together as five and keep new jobs – this is OUR huge SUCCESS.
In January we planned a lot of workshops – it is employment not only for us, but also for our masters and our instructors from whole Poland. We do not need to describe the situation in the cultural sector to anyone this year. We managed to keep our activities going, although we had to change our plans. We maintained ourselves and our employees. We continue to weave and sell baskets from Poland all over the world.
Serfenta is: Paulina Adamska, Łucja Cieślar, Krężi Krężelokk, and Aleksandra Anna Nocuń and Agata Kinoko <3
And also – masters and mistresses, basketry instructors and instructors from all over Poland, friends and partners of Serfenta.
ATTENTION! If this year you write projects and plan new activities – include us in your schedule, order workshops (also online) or presentations / lectures. We can prepare them especially for you. Let's do something together this year.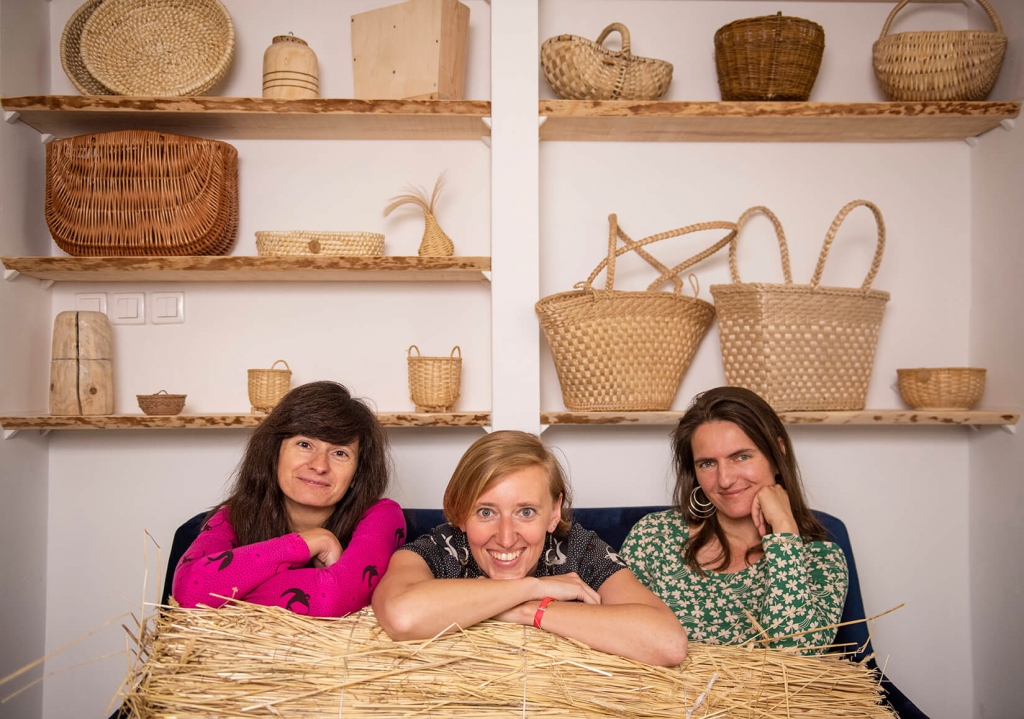 SUCCESS 3 – baskets from Poland by Serfenta on the web!
In May, we opened the online shop www.sklep.serfenta.pl (fanfares here, because we do not shoot firecrackers).
Well, warmest thanks here – thank you to everyone who bought something in it. Not only baskets – also basketry kits, tools, a book about basketry and many other delicacies.
Sometimes you share with us the beautiful stories behind a purchase of a basket. Sometimes it is bought for a gift, e.g. for a mother, sometimes the basket reminds Poland to someone who is far away. Good memories and beautiful emotions – these are our baskets from Poland.
A small summary!
Baskets from Poland, book about basketry, tools and instructional videos, weaving materials have started to set off on a trip since May to:
United States (last shipment to Utah), Canada, Japan (greetings 市 川 伴 武), New Zealand, Norway, various places in England (greetings Anne Marie O'Sullivan), Germany, Italy, Czech Republic and various places in Poland 🙂
We discovered that the shop mechanisms are a never-ending story, thank you very much to their creators KODIGO and all of you for participating in the process of creating the store.
SUCCESS 4 – the shop in our place is already open!
A very nice story happened recently. A little boy and his mother visited us, and when they about to leave, he said: Mom, but I don't want to go! I feel so well here!
It warmed our hearts when we heard such an honest opinion. We want it to be like that for all of you. We invite you to Srebrna Street 1 – here you can touch the baskets in a cozy space and see the beautiful exhibition we have prepared for you.
There are not only baskets here – but also weaving kits, tools, books on basketry and many other curiosities. You will also find unique items here that we do not have in the online shop. If you like such delicacies, you should definitely visit us.
We would like to thank everyone who worked with us intensively to create the exhibition and the shop! Urszula Szwed from Dinksy, Madlene Kokora, Alicja Urbańska-Czyż and her husband Piotrek, Marek Lanc and the people who took the photographs: Alicja Urbańska-Czyż and Kateryna Ziulkovska, Art Department of the University of Silesia in Cieszyn and Anna Szwaja, Faculty of Industrial Design at the Academy of Fine Arts in Kraków and Rafał Soliński. Bravooooo you and us! : D Thank you!
SUCCESS 5 – Serfenta and baskets from Poland at world exhibitions
W tym roku nasze kosze znalazły się na kilku wystawach!
• Lookout Exhibition – curators Tim Johnson and Monica Guilera Subirana, international basketry exhibition from around the world, the exhibition can be seen in Catalonia still in 2021, and there our Zogata baskets
• Dortmund Creativa Fair – we were there physically, also with workshops! That's really something in 2020, isn't it?
• we took part in the Łódź Design Days exhibition: Progress does not exist by Nów Nowe Rzemiosło (The New Craft Poland association). For this exhibition, Paulina Adamska has prepared a special basket made of willow and modern and personal materials
• Weaving the Threads – the contexts of the new craft, right now is presented in Zamek Cieszyn, and thanks to the curator Monika Osinkowska, so are we 🙂 See it and us! The New Craft Poland association, Pracownie Project
• Girls for the Workshop of the Institute of Design in Kielce – the exhibition still travels around Poland, it visits Gdynia Design Days and on this occasion we invite you to meet online in February.
SUCCESS 6 – they write about us!
• Twój STYL (Magdalena Gorlas and Karolina Jonderko),
• USTA Magazyn (Aleksandra Tatarczuk) http://ustamagazyn.pl/2020/10/plecionkarki-z-rogozyna/
• Elle Decoration – in the article about the New Craft Poland association you will also find Paulina Adamska
• Pili Pili Travel Buddy – monthly about short and long journeys (Agata Stafiej-Bartosik)
• We will boast even more – a scientific article by Paulina Adamska was published in a book, in Scotland! "The material culture of basketry – practice, skill and embodient knowledge".
Do you want to write about us too? We look forward to hearing from you!
The end of a summary – SUPRISE!
Celebrate with us! 🙂 Thank you for being with us. We're grateful you passed last year with us by buying baskets from Poland in our shop and taking part in workshops and other projects! If you visit us this month – January 2021 – you will receive a special discount on the password: I celebrate with Serfenta. We invite you for a cup of coffee to our pleasant place on earth!
To be honest, so much has happened this "bad year"… that we cannot complain, but we boldly look to the future and wait for what 2021 will bring. Stay with us in 2021!
——
* Polish baskets in Tokyo is a project possible thanks to funding from the Ministry of Culture and National Heritage and the Creative Sectors programme!