Baskets from Poland at the CREATIVA in Dortmund
In September, we presented baskets from Poland at the CREATIVA fair in Dortmund. All events this year are marked by uncertainty caused by the constraints related to the COVID-19 pandemic. However, participation in the fair was a positive and pleasant experience – despite the reduced attendance, we met many wonderful people.
We spent days talking, weaving and presenting Polish baskets, hand-made by Polish masters, from plant materials. We gave interviews, conducted a show of willow weaving on German television and answered a lot of questions from journalists and clients.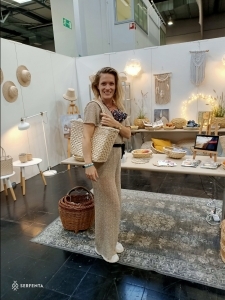 Cozy house and baskets from Poland
Beautiful baskets from Polnad attracted a lot of interest. Our stand was professionally designed and prepared by an interior stylist, Alicja Urbańska-Czyż. We created a homely and cozy space in the great market hall, where our baskets spread their natural and ecological charm, surrounded by warm light, soft materials, plants and appetizing vegetables and fruits. Polish craftsmanship is impressive all over the world – and our baskets are woven by masters and mistresses of this art, in the spirit of closeness to nature.
At our stand, we offered additional attractions – we told participants about our cooperation with masters of craftsmanship and about various materials used in Poland. We were well prepared – we could use specialized words in German about the plants used for weaving. The visitors were surprised that we could say "cattail" or "spruce root" in German. Our business cards were disapearing at an amazing rate.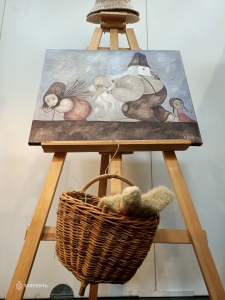 Willow workshops – Polish craft
We also conducted willow weaving workshops, which attracted many people. As always, baskets connect and evoke good memories – many people told us about woven baskets from childhood that were in family homes. "It was a pleasure to run the workshops, people eagerly listened to the stories from Serfenta's life, and one participant even invited me for a coffee" – these were the pleasures of Krężi and Agata at the fair. A lot of people wanted to learn weaving and create something completely new for their own use – maybe the next year we will go there again with a straw weaving workshop.
We really need relationships in life
We are very happy that the fair took place despite the fact that many events in Germany have not yet come back to the calendar, and we believe they have been organized responsibly. Such events are important to us – despite the prevailing pandemic, in order to live we need contact with people and business relationships on which our existence is based. We give more that only shopping online and if you want to invite us with baskets from Poland to your event – do not hesitate to contact us.
Dofinansowano ze środków Ministerstwa Kultury i Dziedzictwa Narodowego pochodzących z Funduszu Promocji Kultury, uzyskanych z dopłat ustanowionych w grach objętych monopolem państwa, zgodnie z art. 80 ust. 1 ustawy z dnia 19 listopada 2009 r. o grach hazardowych".