Innovation Model of Craft Revitalisation
Innovation Model of Craft Revitalisation by Serfenta – we represented Poland and the new craft ideas during the two days of the New European Bauhaus Award ceremony. It was a pleasure, a happiness, a lot of emotions, wonderful meeting and the occasion to tell everybody about our Innovation Model of Craft Revitalisation by Serfenta.
We are proud of being a part of this event. Congratulations to all awarded and involved into this! Do you know that 45 000 people voted for all projects? Wow! It was also a great opportunity to meet such open-minded people from all over Europe. Thank you for following us and watching, and keeping fingers crossed!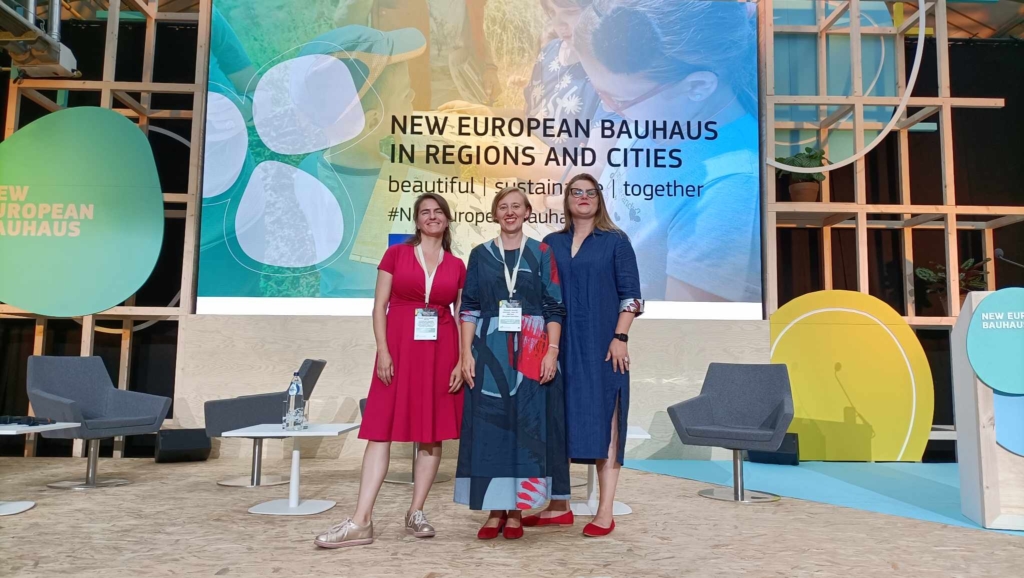 Are we awarded?
Are we awarded? Finally, we didn't get the award during the ceremony, but we feel already awarded!
We are still in a great group of 61 finalists and the 1400 projects were taking part in the process.
Our project was the only project from Poland in the final, and we are proud of that!
We've spent a great time here, we've met such great people, we have many inspirations and we presented our work for an international, European community
It all means that we create a valuable project and we are thankful for the opportunity of being here! THANKS to all who voted for us and who supported us on our way!
Now we are celebrating and enjoying the last evening in Brussels.
THANK YOU, New European Bauhaus: beautiful, sustainable, together for everything! CONGRATULATIONS to all awarded winners, finalists and projects!
More about the Innovation Model of Craft Revitalisation
The innovation model allows one to get the experience of craft work. Combining the elements of tradition and modernity gives a sense of creation and influence in physical reality. The main idea of this revitalization project is: less products, more experience. The experience is understood as accessible for everyone because the project is about maximum social inclusion. It's concerns the crafts in 21st century's economy and the development of the creative competence of the whole world's citizens.
The main core of this model is a revolutionary approach, which means moving away from the products in crafts to the services. They are built on the values from the world of craftsmanship, which are attractive and important for a modern man. We describe also a transition to the broader category of intangible cultural heritage (ICH). We show the crafts as a set of intangible experiences and this intangibility is the essence of the SBM we created. THE WHOLE DESCRIPTION IS HERE
Research – design thinking – business
First part RESEARCH took place in years 2009-16, when we conducted interviews with traditional basket makers. Our goal was to gather the knowledge about techniques of basketry and natural materials accessible in Poland, which is more and more difficult to encounter. We mapped basketry also in Ukraine, Germany, Iceland, Norway, Japan and Rep. of Korea. We follow the UNESCO Convention for the Safeguarding of the Intangible Cultural Heritage, which focuses on the skills of traditional craftsmanship, not on the products.
In 2016, we've started the process of DESIGN THINKING, which highlights understanding of the user's needs. We started to create services in cooperation with craftsmen, designers, people in every age and situation. We found new ways for tradition in a modern world.
BUSINESS part started in 2016, when we connected our approach with the market. The main idea is "less products, more experience" and its derivatives: craft experience for all with workshops, craft tours, also presence in new media, online shop with products, a book, tools, materials.
After 15 years of experience – Serfenta has the know-how and is recognizable in the world. The SBM is complete, clear, replicable to other crafts and ICH areas. The strength lays in sustainable economization and exemplary.
Authors of the project: Paulina Adamska, Łucja Cieślar, Urszula Szwed.
If you want to cooperate with us or if you want to hear more about our Innovation Model of Craft Revitalisation, just contact us!