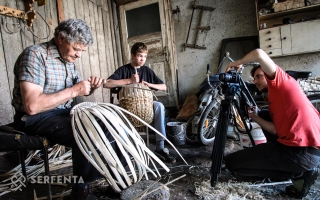 Weave it yourself – tutorial videos
Zobacz i wypleć! DIY
Author
Serfenta
Technical information

Production: The Serfenta Association
Camera and editing: Krystian Pisowicz
Language: Polish
Subtitles: English
Medium: DVD
Publication year: 2011

Price

4 online films

private access to 4 films

2 online films

private access to 2 films

1 online film

private access to 1 film

Complete set (4 films)

(plus shipping about 20 PLN)

Price: single box (2 films)

(plus shipping about 20 PLN)

Share
Weave it yourself is a series of how-to videos: master basket makers, traditional folk artists present the methods of creating particular baskets and other objects. The tutorials can be used for self-learning, as they show the whole process step by step. Thanks to the videos, everyone can learn to weave on their own. And if you already know how to do it – you can learn some new techniques and regional methods!
Videos available online (it's necessary to log in) or in DVD version (2 boxes with 2 films).
You can also buy special tools in Serfenta -
basketry needles
for straw technique.
Box 1 – films 1, 2. Box 2 – films 3, 4.
Take a look how the final effect is presenting:
kabłącok
,
straw basket
,
cattail shopper
.
Tutorial videos
Box 1 – videos 1, 2.
Video 1. Fruit basket

Weaving a traditional basket with a round base made of green willow. Basing on this technique, you can weave other shapes of baskets too. The basket is presented by master Grzegorz Gordat from the region of Lublin, who has already gained the title of the master of tradition despite his young age.
Duration: 73 minutes

Video 2. Cattail shopper basket

A basket - bag made of an unusual material – bulrush, also called cattail (Typha latifolia). You can see the final effect - shopper - in our shop. It is presented how to make it by the master of tradition Helena Rogala. called The Queen of cattail.
Duration: 66 minutes
Box 2 – videos 3, 4.
Film 3. Kabłącok basket

This unique basket has an unusual shape – semicircular with a flat wall, supported by a bow, made of unbarked willow. Baskets of this type are woven in the extraordinary basketry village of Lucimia and it is a part of our national heritage. The basket is present by the basket maker master Czesław Kostka.
Duration: 56 minutes

Film 4. Straw basket

Sewing with rye straw is a typical technique in the region of Podlasie. The instructions presented in the video help you create straw baskets, mats, vases, bowls, and plates. The technique is presented by the master of tradition Zoja Majstrowicz. You can see step by step how she is weaving.
Duration: 58 minutes