Do you want to show our exhibitions and help us promote basketry? Just invite us!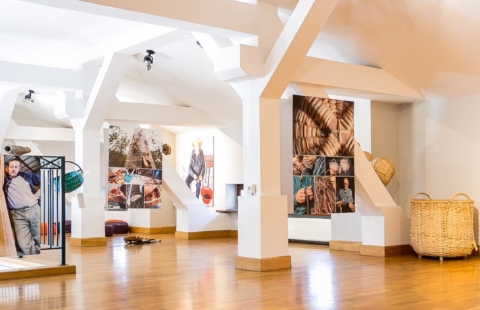 During our research trips we discovered that handwork and handicraft is a shared experience and heritage of all humankind. We encountered the same techniques and materials used for thousands of years in various places. This is why we believe that basketry is a universal language common to people all around the world.
The exhibition is a result of ethnographic research in Poland and Norway. We are interested in the cultural context of basketry and thus we would like to answer the following question – why do more and more people take up this activity and discover the need to use their hands creatively?
The exhibition consists of:
49 boards (120×90 cm), z with photographs and descriptions (in Polish, English, and Norwegian)
40 basketry objects – traditional Polish and Norwegian woven products, including various types of baskets, shoes, fish trap, and 3 additional items from other parts of the world
5 outdoor display stands with concrete bases.
The exhibition is accompanied by a projection of videos from the project study visits.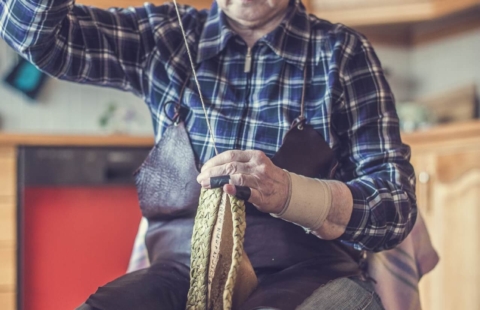 We can also organise an official opening of the exhibition with a workshop and a basketry show.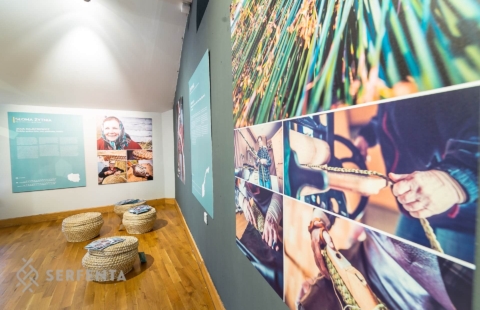 Costs:
Renting the set of exhibits for 1 month – PLN 2500 net/gross (+ shipping).
Renting only some of the exhibits, or organising the exhibition along with a workshop and a show, or renting the exhibits for a longer period is priced individually.
If you'd like to get some more details or place an order – call us or write us!
Anna Krężelok will answer all your questions:
tel.: +48 517 152 687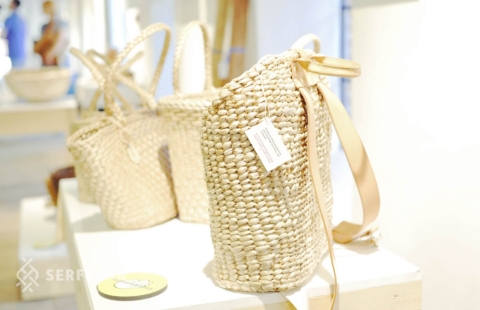 The exhibition "We weave!" presents the properties and combinations of various materials used in basketry in Poland and other countries. At Serfenta, we travel across thousands of kilometres to learn everything about basket making. Our ethnographic research trips began in Poland and then continued through the Czech Republic, Germany, Ukraine, and Norway: we recorded our conversations with the basket makers we met there, artisans and artists specialising in basketry.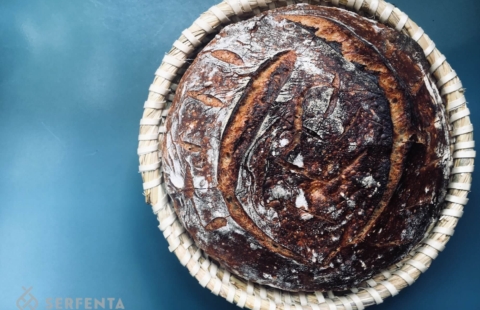 You can find basket makers everywhere. In France, Iceland, Spain, Africa, Indonesia, Japan, Australia… and in many other places we are planning to visit. We have friends all over the world – basket making connects people!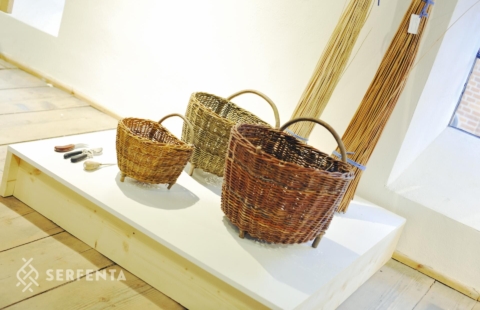 Our exhibition shows numerous ways of weaving with various basketry materials – from the popular ones, like willow, to those unique, such as cattail.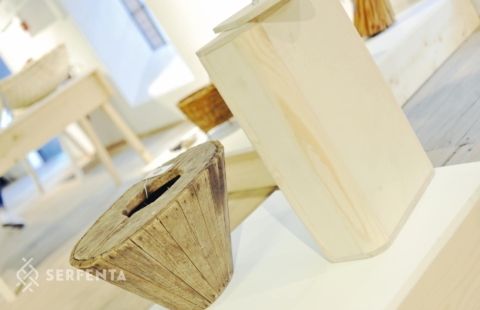 The exhibition shows basketry in the context of good design, use of natural materials, reusing, zero waste, modern crafts and the value of human hands.
Apart of the boards, products, tools and moulds, the exhibition also has three interactive stands.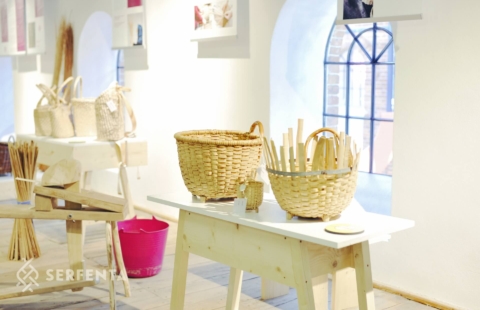 Costs:
Renting the exhibition, along with a workshop or a show, is priced individually.
If you'd like to get some more details or place an order – call us or write us!
Anna Krężelok will answer all your questions:
tel.: +48 517 152 687